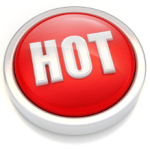 The Hot Button is usually described as a key point that gets someone to whom you're talking to react emotionally. Usually in a positive manner, but sometimes negatively. Salespeople and Marketers seek out the Hot Button in an effort to uncover buying motives, objections, and basically learn (and capitalize on) the things a prospect loves (or hates) about the thing the salesperson is selling.
You hear a lot about the Hot Button.  
What it is, how to find it, and how to use it to your best business advantage.
BUT… you don't hear enough about the Start Button.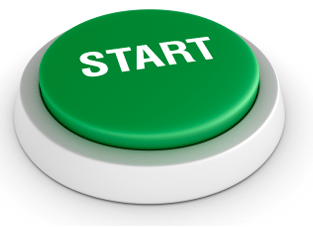 The Start Button, the Publish Button, the Post Button, the Tweet Button, the Share Button, The Record Button, the Go Button…
The Ship It Button.
You might get hot under your collar about a lot of things, but unless you press the Start Button you'll never make any changes to what made your temperature rise. You might want to be the next hot author, but until you press the Publish Button you'll never know if anyone else will be hot for you and what you're writing.
For many years I worked in a print and copy shop.  My co-workers running the high-speed copiers had to know a lot about how to program the machines. They had to tell it if the originals were single or double-sided and if the output copies were supposed to be the same way, if the copies were supposed to be collated or stacked, whether it was 3-hole paper or stapled, whether there were tabs to insert or whether or not it needed a piece of cover stock.  All this input affected what the output would be — just like all the planning you're doing will impact your results — but no matter how much time and how much care you put into programming the machine, nothing happens until you press the Start Button.
Ironically, this post has been swimming around in my head for a couple of weeks. I'd jot a note down here, another phrase there. I looked for an image for the Hot Button and then I found a photo of the Start Button. I saved the images to the Media folder and saved versions of this post to the Draft folder — but nothing happened until I pushed the Publish Button this morning.
Which one of your hot projects has been sitting on the back-burner?
Perhaps it's time to really turn-up the heat and press Start.
In the interest of (even more) full disclosure, doing videos has long been on my hot list. I know video is a hot content button, but I've been slow and inconsistent in pressing the Record and Post Buttons.  This month I am participating in #SSSVEDA which is @savvysexysocial's spin on the Video Everyday in August concept. Amy Schmittauer did a great job of rallying a base of people to participate in the creation of a daily video for 31 consecutive says during the month of August. She even created a simple to follow daily content question to take all the programming and planning out of the equation, allowing people (me!) to simply focus on the execution — pressing the Start Button.
If you're interested in playing along, just click this link to sign-up (it's fine if you start late and miss a few days — the point is to START) and if you simply want to follow what I'm doing to see if it's something you'd like to try (and feel free to call me out if I miss a day!), you can subscribe to my YouTube channel at  youtube.com/dontheideaguy.