Meet Don The Idea Guy!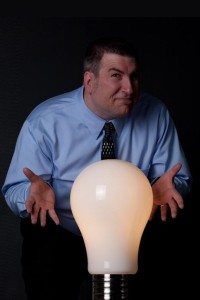 Possessing creative powers beyond those of mere mortals, DON THE IDEA GUY rescues those in need of innovative ideas through his brainstorming sessions, articles, and websites.
DTIG (DEE-tigg) has been featured in Small Business News, interviewed by the New York Times, quoted in Fast Company magazine, and served as the first president of the International Idea Trade Association.
Don is a proud member of the BzzAgent community, and is featured in BzzAgent.com founder Dave Balter's book "Grapevine: The New Art of Word-of-Mouth Marketing."
His Innovation Channel on the Duct Tape Marketing Blog has been recognized as a Forbes Favorite.
Don is the author of the book "100-WHATS of CREATIVITY", one-hundred 'what if?' questions to spur your creativity, unmuck your mind, and break through your mental blocks and has written dozens articles and hundreds of blog postings on the subject of increasing innovation and adding creativity to your personal and professional life.
DTIG is an award-winning public speaker and an official "Trained Brain" of the Eureka Ranch in Cincinnati, Ohio.  He has sold, shared, or traded ideas with the likes Sears-Kenmore, Ford Motor Company, Palm, American Airlines, Coca-Cola, Kelloggs, The American Marketing Association, Doug Hall, Seth Godin, Daniel Pink, Jeffrey Gitomer, and The Tom Peters Company who described Don The Idea Guy as "the perfect example of a strong and successful brand".
The Idea Guy is a Gitomer Certified Speaker, hand selected and entrusted by best selling author and sales expert Jeffrey Gitomer to deliver his content with clarity, humor, and impact.  Don was also awarded status as a Gitomer Certified Advisor, authorized and mentored by the global sales guru to sell and facilitate Gitomer's full-day classroom courses on sales training, attitude, networking, and customer loyalty — as well as sell the exclusive web-based training platform GitomerVT.
With a degree in Visual Communications from the Art Institute of Pittsburgh, Don has focused his creativity in a variety of fields; graphic design, broadcasting, sales, marketing, promotion, training, and customer service.
Don pays special attention to business and social trends, creating ideas that average 6-months ahead of the early adopter curve, but sometimes he jumps ahead and misses his mark by by a year or two (at one point a DTIG idea was more than 10 years ahead of the trend — he hasn't yet decided if that was a positive or a negative…)
---
Disclosures and Relationships
I am in the full-time employ of a media company which owns radio, television, newspaper, magazine, and website properties.
I provide freelance brainstorming and idea-generation services for a nominal fee.
I get paid to present seminars and workshops on a variety of topics.
I have earned the designation of "Gitomer Certified Speaker" and generate revenue presenting the content of best-selling author and sales trainer, Jeffrey Gitomer.
I am a user/subscriber and affiliate of AceOfSales.com (use promo code IDEAGUY30 for a free trial) or visit www.GetAceOfSales.com.
I many friends who are professional speakers, authors, and performers. I am honored by their association and brag on them constantly. I link to their projects and web pages because I'm a fan and hope my readers will become fans, too.
I am the author of "100-Whats of Creativity."
I co-authored the original version of the book "Boring Meetings Suck" with Jon Petz.
I frequently use my Amazon affiliate ID when linking to books.
I am a contributing columnist to RBR.com.
I sell imprinted promotional products/advertising specialties via SalesToys.com.
I am a domain name and hosting reseller via SalesToys.com.
People occasionally send me books in hopes of a review on my blog. I don't always provide the review (especially if it would have been negative), but when I do post a review you can count on me providing my true feelings about the book.
One of my best friends runs RemergeMedia.com and I am an unofficial consultant to the company and contributor to their blog, as well as being a client via their association with my media company employer.
I own TheBigLink.com which provides paid blog posts via a gig on Fiverr.com — this is the only site I run that practices a pay-per-post philosophy.
I am a member of affiliate programs via LinkShare, VistaPrint, ShareASale, Amazon (along with several others) and sometimes incorporate affiliate links into blog posts. I strive to include a notation if I use an affiliate link, but sometimes fail to do so.
I am a member of BzzAgent.com and sometimes participate in word-of-mouth marketing campaigns. I always disclose when my content is posted in connection with one of their campaigns.
I am a confessed fan-boy of Jeffrey Gitomer and sometimes create unofficial and unauthorized sites devoted to the content he creates.
If you suck at what you do and manage to make me unhappy, you may become an object lesson in the power of social media and the reach of the web.